pool and spa services
by dfm design
With the unpredictable weather nowadays a modern pool enclosure or spa enclosure can make a huge
impact on your privacy and ability to enjoy and use your pool in all weathers, summer or winter, hail,
rain or snow.
Gazebos:
Beautiful real Red Cedar Gazebos and Swim Spa enclosures from
Cedartree Uk
These Gazebos are made from the best quality Red Cedar and
are manufactured in the UK. They are fully customisable and
can be enhanced at a later date. They also have a choice of
three different roof styles to choose from.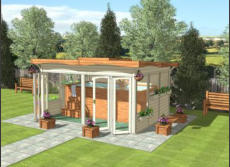 A wide range of sizes available, 2.5m x 2.5m through to 4m x 5m
suitable for any thing from a small hot tub to an Endless Pool or
Endless Pool Swim Spa. Contact us or Cedartreeuk for details