The Jacuzzi 300 Range
With 7 hot tubs to choose from, the J-
300 series of hot tubs by Jacuzzi® is
our most versatile range of hot tubs.
Whether you need a 2 or 7 seater,
integral lounger seats or headrests,
we have a J300 hot tub to suit you.
Fitted with our patented PowerPro
jets, all our J-300 Hot Tubs are
guaranteed to deliver an experience
that will stimulate, energise or relax
you every single time.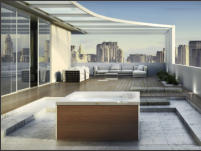 The Jacuzzi 200 Range
The J-200 series of hot tubs by
Jacuzzi® are a classic choice.
Available in 3 different colours, the J-
200 series includes the only circular
Jacuzzi hot tub and its central
whirlpool jet. Focusing on luxury,
comfort and premium Jacuzzi quality,
the J-200 hot tubs are brilliant value
for money. The J-200 hot tubs have
been designed to help you enjoy an
surpassable hydrotherapy experience.

The City
(tm)
Spa
Designed by Kaluderovich & Condini
Relaxation, comfort an intimacy in the
comfort of your home - these are the
promises that Jacuzzi® makes with its
latest wellness unit - City™ Spa. A
new dimension in wellness that you
can enjoy in the city, inside the
apartment or out on the patio, for all
those that want to take all-round care
of themselves

Jacuzzitm Hot Tubs..the people that invented it over 55 years ago
We are Central Scotland's approved dealer for Jacuzzi Hot Tubs and Spas. We specialise in both
commercial spas and domestic hot tubs. All Jacuzzi Hot Tubs and Jacuzzi Spas come with full
Jacuzzi UK warranty and after sales support. Why not visit our Showroom in Broxburn to see for
yourself the quality of the Jacuzzi Hot Tubs. We sell and service Jacuzzi Hot Tubs all over
Scotland, Glasgow, the West Coast, Ayrshire, Dumfries and Galloway, Fife, Perth and Kinross,
Edinburgh, and the Borders. Call 01506 811170 Email info@dfmdesign.co.uk

pool and spa services
by dfm design